12 DECEMBER 2017
On 12 December 2017 in Turin, Aitor Aguilar presented his degree thesis to the IAAD commission; external speaker for STUDIOTORINO was Maria Paola Stola.
"E 914 Tayrona" is the title of the thesis; the choice shared with the student has been proposed by STUDIOTORINO, aimed at an electric Porsche 914 concept.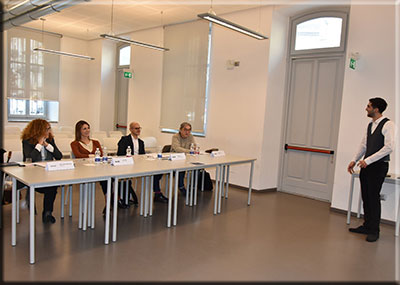 The IAAD commision: M.P. Stola, L. Milani, P. Nume, M. Inoue.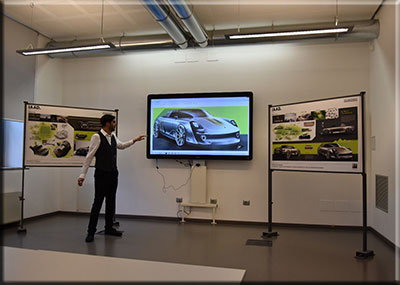 Aitor Aguilar presenting the thesis to the IAAD commission.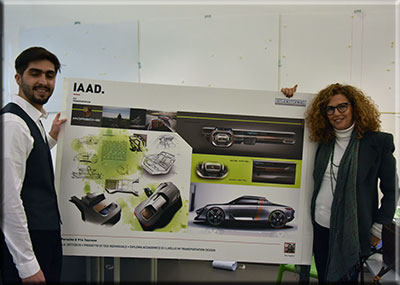 Aitor Aguilar and Maria Paola Stola.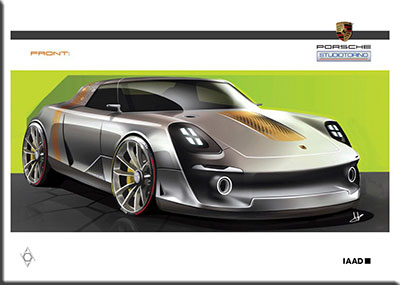 Aitor Aguilar, describes a contemporary reinterpretation of a 914 in production form, imagining the first 100% electric, mid-motor Porsche production sports car.
Two doors, two seats, with a particular look at leisure and adventure, for a modern and dynamic clientele.

Villarbasse November 2017: Aitor Aguilar,
Maria Paola Stola and Wladimir Lasbugues. Colors, graphics and the name Tayrona are evocative of Colombia, the country of origin of the graduating student.
Wladimir Lasbugues (since 2013 Centro Stile JAC) has also been supporting the thesis "E 914 Tayrona". Thanks to his passion, and alongside Maria Paola Stola, he helped Aitor to instill as much of the original 914 DNA as possible into the new "E 914 Tayrona".