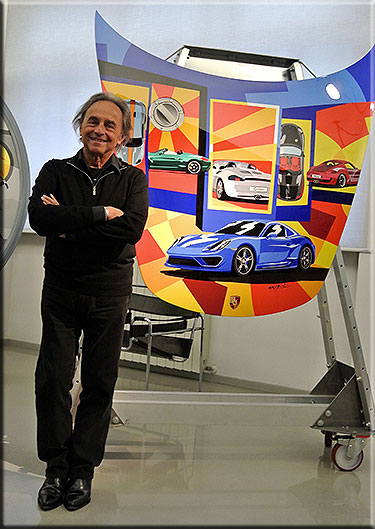 Turin, March, 22 2016, Ugo Nespolo at his atellier.
Since the 1970's, Art and Automobiles have come together in some of the most important museums in the world. Artists such as Alexander Calder, Roy Lichtenstein and Andy Warhol have all expressed their creativity on BMW bodywork.
Alfredo and Maria Paola Stola, in wanting to express their passion for the Porsche brand, have commissioned artist Ugo Nespolo to create a unique artwork portraying the prototypes that they have created between 2001 and 2014.
Titled "Nate a Torino", Born in Turin, the work was presented at the artist's studio on 22nd March 2016 and is currently displayed at "MAUTO" , the national automobile museum in Turin.